Polakulath Narayanan Renai Medicity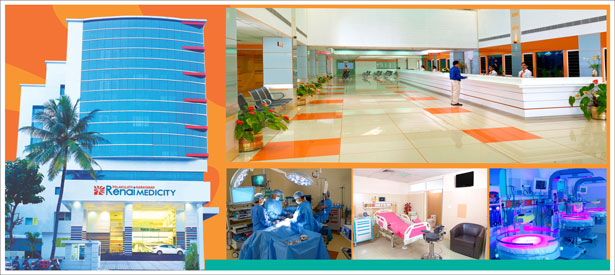 About Hospital
A one-stop multi specialty hospital that will take care of all your health and medical needs. Come up with an expert insight into health services, Renai Medicity has set highest standards for quality and care to ensure top-notch healthcare experience at affordable rates.
The hospital designed and conceived in a different way sprawls in Three acres of land adjacent to National Highway, between Palarivattom and Mamangalam, Cochin. The hospital main building has Eight floors that houses Thirty departments, 500 patient beds, 15 Operation theatres including Hybrid theatres for cardiothoracic surgeries, 11 separate Intensive Care Units with 120 beds, Trauma and Palliative units, State-of-the- art chest pain centre, 24-Hr Accident & Emergency care, Advanced radiological equipment, 24 Hour Pharmacies and clinical Labs, Centrally air conditioned Rooms, Suites and wards, Multiple Restaurants and more.
The services of a panel of eminent doctors and trained medical technicians can be availed of across 30 departments at Renai Medicity. As a centre of excellence which brings in the novel approaches in medical treatments, Renai Medicity has become a premium referral hospital within the state.
Ultra modern ways of treatment, eminent panel of doctors, impeccable care, ample parking facilities, social responsibility and international mode of activities would make Renai Medicity a real different one.
To know more about us please visit www.renaimedicity.org or call us at + 91 484 288 00 00
Our Facilities
500 Bedded Centrally Air conditioned I 15 Nos of Operation Theaters I Hybrid OTs for Cardio Thoracic Surgeries I 11 Separate ICUs with 120 Beds I Level 3 Neonatal care I First of its kind advanced Chest Pain Centre in Kerala I Labour Suites I 24 – Hr Accident & Emergency care unit in Kerala I Laminar Flow with Hepa Filters for OT I Micro filters for ICUs I Pneumatic System for instant transportation of Medicine, Blood and Blood products I State of the art radiological equipments I 24 hour pharmacies I Advanced clinical Labs I Dedicated day care unit I Sleep lab I Ward Beds to Deluxe Suite rooms with private balconies I Kids Play area I Prayer area I Restaurants, Snack bars & Coffee shops I Corner Shop I Dedicated and committed staff I 100% ecofriendly practices I International modes of operations I Ample Parking and more..
Contact us
Polakulath Narayanan Renai Medicity
Post Box No. 2259, Mamangalam, Palarivattom, Cochin – 682 025
Phone : + 91 484 2880000
Website:-
, care@renaimedicity.org